Here at Sweet Angels Daycare and Preschool we provide quality childcare in a safe, loving and professional environment. We have excellent staff and their number one goal is to meet the needs and abilities of each child's physical, emotional, intellectual and social development.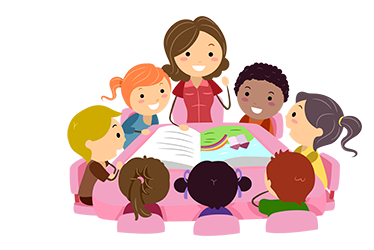 All of our teachers are qualified, early childhood professionals who have met strict enforced state standards. Each staff member must also pass a thorough check of references, health exam and state screening, before the state will approve them to work for Sweet Angels Daycare and Preschool. Our classrooms are CPR, AED, First Aide and MAT trained to ensure the safety of all our children.
Our environment is hands-on, educational, and of course, FUN. Our desire is to assist and encourage each child's ability and skills throughout every stage of their development. Your child will have a safe, clean, healthy place to grow and learn.
Children learn through play. We will provide many opportunities for them to "discover" things about the world they live in. Children are really very bright and need to be treated as special individuals with much to share. Each child brings a new and exciting personality to the center and we try not to stifle their personalities, but to nurture it, and guide them in areas where they need guidance.
Safe & Nurturing Environment
NYS Licensed
Well Trained and Certified, Loving, Motivated and Energetic Staff
Licensed Nurse on staff, CPR, First Aide, MAT trained classrooms
Secure Keyless Entry
Fingerprint Sign In/Out
Quality Care and Educational Programs
Nutritious Meals
1/2 Day Pre-K Program
Fun Learning Experience
Quality Nursery School
Excellent Kindergarten Readiness
Before & After School and Summer Camp
Planned Daily Curriculum
Spanish and Sign Language
Kinder Nutrition & Fitness
Gymnastics and Martial Arts
Fun & Educational Fieldtrips